Spending Review: Hampshire police cautious over cuts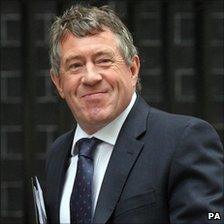 Hampshire police, which is planning to axe 1,400 jobs, has reacted cautiously to the government's Spending Review.
Chancellor George Osborne announced the policing budget will be reduced by 4% each year.
That sum is lower than the force's planned 25% cut by 2014/15 but officers said it was unclear how the figures would affect frontline policing.
Shadow Business Secretary and MP for Southampton Itchen John Denham accused the government of a "reckless gamble".
"My real worry is that we will see a lot of people lose their jobs, we won't have the ability to invest in private sector jobs, to grow the economy, that our public services will be needlessly damaged.
"From everything that we have seen so far, the burden is going to fall on lower income and middle income families in this country, not a fair way of approaching the deficit."
Hampshire Police Authority said it was waiting for the policing settlements to be announced in December before drawing up detailed plans for its 2011/12 budget.
Councillor Jacqui Rayment, chair of Hampshire Police Authority, said "We will of course protect frontline policing from the cuts as much as possible.
"However, in expectation of the cuts we face, the authority and the constabulary are taking important steps to identify where we can make further efficiencies."
The force announced last month it was planning to shed 1,400 posts, including police officers.
It is planning to reduce its budget by £70m (25%) over the next four years.
The job losses will see redundancies, positions left unfilled, redeployments and voluntary redundancies.
The force, which employs about 6,700 staff, also plans to share and sell buildings and increase collaboration with other forces, especially Thames Valley.
It had already approved plans to scrap its spotter plane and instead share two helicopters with the Sussex and Surrey forces.
Related Internet Links
The BBC is not responsible for the content of external sites.