Spending Review: Row over Portsmouth council job losses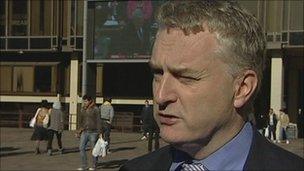 A row over the scale of council job losses in Portsmouth has erupted after the government said local authority funding will be cut by 28.4% by 2015.
Unision said 400 city council jobs will go but council leader Gerald Vernon-Jackson said it was likely to be 200.
Chancellor George Osborne revealed councils face an annual 7.1% funding cut in the Spending Review.
Meanwhile Hampshire County Council said it was worried over what factors would determine the level of funding.
The authority said the distribution of the government grant had not favoured councils in the South and it was worried how the new settlement will be handed out.
Southampton City Council said it was well prepared to make the savings but the cuts would still have a big impact.
Hampshire Police Federation said although the 16% cuts over four years were less than expected it was worried frontline services would be hit.
In Portsmouth, all parties agreed the cuts would mean job losses at the city council.
Lindsay Wiliams, from Unison, said: "The effect on our staff is going to be huge and devastating.
"The information we have been given is 400 jobs are to go and we will argue every single one of them."
But Mr Vernon-Jackson, leader of the Liberal Democrat-controlled council, said the number of losses was likely to be nearer 200.
"Every year we have to make cuts in our budget, every year we have to lose staff and this year won't be any different," he said.
"But we will work closely with the unions to try to make sure it is as few as possible."
Related Internet Links
The BBC is not responsible for the content of external sites.