Peter Tobin's former Hampshire garage dug up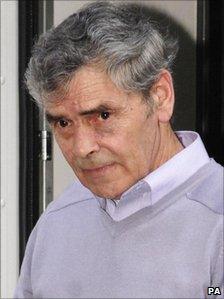 A garage once used by serial killer Peter Tobin has been dug up and searched.
Specialist police officers carried out the investigation at a property in Broadmere Avenue, Havant, Hampshire, on Thursday.
Tobin, 64, of Renfrewshire, is serving life sentences for murdering Angelika Kluk, Vicky Hamilton and Dinah McNicol.
A Hampshire Constabulary spokesman said nothing suspicious was found at the garage, which Tobin rented in 1993.
The investigation was carried out as part of the nationwide Operation Anagram, launched to see if Tobin is responsible for other murders.
The search was carried out followed an initial survey of the site using ground-penetrating radar signals, which indicated further exploratory work was required.
It was initiated as a result of information received by the inquiry team regarding Tobin's movements.
No other properties in Hampshire are to be searched.
Earlier this year searches were carried out at properties in Brighton, East Sussex, which did not reveal anything suspicious.
Tobin was told in December 2009 he would never be freed from prison when he was sentenced for strangling 18-year-old Miss McNichol.
He was already serving life terms for the murders of Miss Hamilton, 15, and 23-year-old Miss Kluk, a Polish student whom he killed in Glasgow in September 2006.
In 2007, detectives discovered the remains of Miss Hamilton, from Bathgate, near Edinburgh, and Miss McNicol, from Tillingham in Essex, buried in the garden of a house in Margate, Kent, to which Tobin had moved to in March 1991.
Related Internet Links
The BBC is not responsible for the content of external sites.