Hampshire County Council warns cuts 'greater than ever'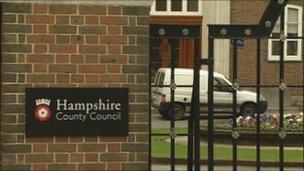 Hampshire County Council's leader has said the sum the authority will have to save "is far greater than we have ever had to save before".
In last Week's Spending Review chancellor George Osborne revealed councils face an annual 7.1% funding cut over the next four years.
By 2015 local authority funding will be cut by 28.4%.
Councillor Ken Thornber said it would "mean unprecedented change for the council and its services".
He said the cuts would be greater in the first two years with an average loss across the country of 10.1% in 2011/12 and 8.6% in the following year.
"Hampshire could see larger losses depending on how the grant is distributed between councils," Mr Thornber added.
"If we take our past funding levels as an indicator then Hampshire will be one of the hardest hit.
"The devil is in the detail, and at the moment we don't know all the details so it is difficult to put an exact figure on how much we will need to save.
"Our planned cost reductions include the integration of some services, reducing management costs by 25%, cutting communications and support costs, speeding up the council's programme to reduce office space and renegotiating large contracts to secure even better deals."