Latvian brothers to be deported for Southsea attacks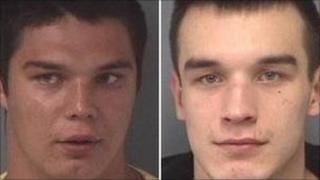 Two Latvian brothers who went on the "rampage" as part of a gang are to be deported after serving jail sentences.
Janis and Kaspars Kozevnikovs were convicted of carrying out separate robberies within minutes of each other on Southsea seafront in February 2009.
Janis, 22, of Estella Road, Portsmouth, pleaded guilty after his victim's blood was found on him and his brother, 20, of Leicester, was convicted last month.
Janis was sentenced to four years and Kaspars to three-and-a-half years.
No explanation
Detectives said the first victim was attacked by a gang of men, including the brothers, along Clarence Esplanade.
Minutes later, a German couple who were visiting the area were attacked and robbed on nearby Avenue De Caen.
Police flew the couple back to the UK to help secure a conviction.
Det Con Toby Wilson said: "The brothers were working as a part of a group of men who were out on a rampage that evening.
"We don't know what caused them to do this and they have never explained their actions."
Of the remaining suspects, a 25-year-old man was released without charge and a 22-year-old man is wanted by the police.
He is thought to have fled to Latvia.