'Flood risk' fight in Emsworth to continue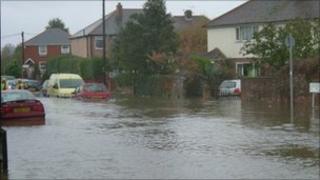 Campaigners have vowed to fight on after a council approved plans to build 280 new homes in Emsworth, Hampshire.
Havant council's planning committee agreed outline permission despite fears from residents that the proposed site could be at risk of flooding.
Earlier this month 40 houses in the town were evacuated after severe flooding followed heavy rainfall.
The council said grounds for refusal were too weak and would leave it open to legal action from developers.
But Lorraine Clode, chair of Emsworth Residents' Association, said campaigners would fight on.
She added: "Everyone is angry and exhausted but we will fight on and look very closely when the detailed plans are submitted.
Rare bats
"Our worries about the high risk of flooding in that area still stands up... but it was a shame some councillors did not decide to change their minds."
Her group also raised concerns about rare bats living near the site, but the council said it was satisfied they would not be affected after hearing evidence from a bat expert.
Councillor Paul Buckley, chair of the committee, said the area is not on a flood plain.
He added: "When you have Southern Water, the Environment Agency and other authorities saying they do not have concerns then we are not in a position to refuse permission.
"We have to have solid, professional grounds otherwise the developers will take it to appeal and we would lose.
"The bottom line is we need more housing and this area has been highlighted as a development site."
Developers Linden Homes will now draw up detailed plans but must stick to strict conditions laid down by the council.