Union condemns 535 Isle of Wight Council job cuts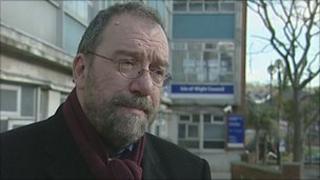 A trade union official has described the Isle of Wight Council's planned job cuts as "absolutely appalling".
The council revealed 535 jobs were likely to go as part of plans to save £32m over four years following the government's Spending Review.
Mark Chiverton of Unison said: "The effect on the Isle of Wight is bound to be devastating in terms of employment."
Council chief executive Steve Beynon said efforts were being made to minimise compulsory job losses.
'Difficult time'
The Conservative-run council aims to save £17m next year alone, but Unison says the job losses are disproportionate.
Isle of Wight Unison branch secretary Mr Chiverton said: "There will not be a single service in the council that won't be affected.
"This does seem a much higher total of job losses than in many other councils."
The authority said all departments within the council were set to be affected by the announcement, but senior management was likely to be hardest hit.
It said compulsory redundancies would be minimised and some posts may be taken over by outside bodies.
Mr Benyon said: "This will naturally be a difficult time for staff and we will make sure that all the appropriate support is made available to help them through the process."