Portsmouth to host Ark Royal farewell parade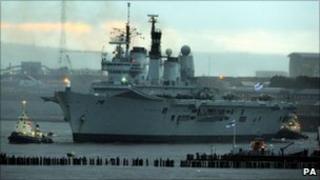 A farewell parade is to be held in Portsmouth - the home city of axed aircraft carrier Ark Royal - to give the ship and its crew a final send off.
Both the ship and the Harrier jump jets that fly from its deck are being scrapped under budget cuts.
A formation of Harriers made its final journey from the Royal Navy's flagship vessel on Wednesday.
The parade for Ark Royal, which is being taken out of service three years early, will take place on 22 January.
Four GR9 Harriers marked the end of an era when they roared off Ark Royal's deck near North Shields, North Tyneside, as the ship sailed to Germany.
It was the last such flight from a UK aircraft carrier for about 10 years - until replacement carriers are brought into service.
Leader of Liberal Democrat-run Portsmouth City Council, Councillor Gerald Vernon-Jackson, announced there would be a decommissioning parade for residents of the city in Guildhall Square.
"HMS Ark Royal has a very special place in the hearts of the people of Portsmouth," he said.
"It's only right to mark the passing of such a great ship."
Ark Royal will head back to its Portsmouth base on 3 December, where it will end its active life 25 years after being built on Tyneside.
The first Ark Royal saw battle in 1588 and smashed the Spanish Armada. The current ship is the fifth vessel to carry the name and saw active service in the Balkans and the second Gulf War.
It will be replaced by the Queen Elizabeth class of aircraft carrier, which will not come into service until the end of the decade.
The Harriers will be decommissioned in 2011 and replaced by the F35 Joint Strike Fighter aircraft.