Caution urged as rain brings ice in Hampshire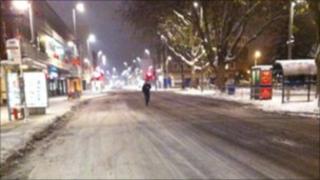 Police have warned motorists to exercise caution after rainfall led to icy conditions and flooding.
Hampshire Constabulary said road conditions had improved slightly, but many surfaces remained slippery.
Some sporting events have also been cancelled, including Portsmouth FC's game against Burnley at Fratton Park.
Staff at Portsmouth City Council who drive 4x4s have been helping make sure meals-on-wheels deliveries get through, despite the bad weather.
About 220 meals are taken to vulnerable adults in the city every day but snow has made some of them inaccessible.
IT and customer service workers have been among those to spend several hours dropping off food.
The B3055 Balmer Lawn Road, Balmerlawn, near Lyndhurst, was closed in both directions at the A337 Lyndhurst Road junction, because of flooding.
Meanwhile South West Trains (SWT) said it would operate a revised service on Saturday and advised passengers to visit its website.