Grandmother opens Hampshire home as Christmas grotto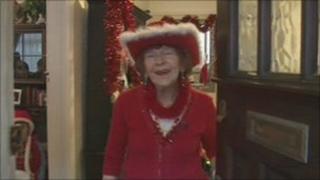 A Hampshire grandmother has converted her bungalow into a Christmas-themed grotto to raise money for charity.
Julie Scarborough, of Waterlooville, is raising money for Naomi House children's hospice and the Portsmouth Hospitals Rocky Appeal.
Mrs Scarborough, who has five children and 16 grandchildren, has enlisted the help of friends who dress up as reindeer and other festive characters.
Visitors pay £1.50 to visit the house and meet Santa, who hands out presents.
Mrs Scarborough, who has previously held similar events at her home, has raised a total of £500,000 for charity over the years.
She said: "I'm always pleased to see my house full of people, especially if they're happy people."
She told BBC Radio Solent: "I have to crawl through bags to get to my bed because there is only one room in the entire little bungalow which is not in use as part of this festivity."