Hampshire snow prompts council's £100m broadband pledge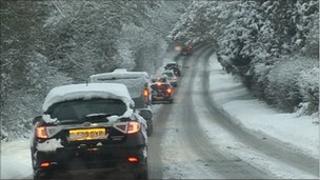 Recent heavy snow has prompted Hampshire County Council to say it is prepared to find £100m for rural broadband so people can work from home.
Snowy weather last week cost businesses in Hampshire £100m, the county's independent economic partnership said.
Driving on major routes such as the M3, A3, A3M and M27 was hazardous and many rural routes were impassable.
The county council defended its efforts on the roads, but admitted it must try harder to minimise the impact of snow.
The heaviest snowfall in the county, up to 20cm (8in), was seen in the Petersfield and Alresford areas, but coastal areas were also hit hard.
The Hampshire Economic Partnership, which says it brings together business and local government to influence the "economic prosperity" of the county, said many businesses relied on passing trade.
Paul Kinvig, of the partnership, said: "I suppose one of the things that is almost forgotten about are those businesses that are open that literally depend upon people literally walking through the door and putting cash into the till."
Leader of Conservative-run Hampshire County Council, councillor Ken Thornber, said the council was prepared to do more.
"People will say that we need to do more in the rural areas.
"We can't have Hampshire coming to a halt."