Blind guinea pig dumped on bin in Southampton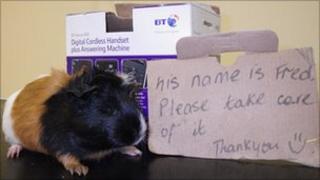 A blind guinea pig had a lucky escape after being abandoned on a wheelie bin in Southampton.
The animal was discovered by chance inside a cardboard box in a carrier bag on Sunday.
The owner of the bin in the city's Radcliffe Road noticed the bag at about 1830 GMT and was going to throw it in the rubbish until she glanced inside.
A message on a piece of cardboard inside the box read: "His name is Fred. Please take care of it thank you."
'No excuse'
The RSPCA is now trying to find out who abandoned the animal, which is female and blind in one-eye and has little vision in the other.
Animal welfare officer Sue Brooks said: "This poor creature had a very lucky escape.
"Had someone not thought to look in the box before putting it inside a bin she could easily have been thrown in the back of a rubbish lorry and been crushed in its metal jaws.
"There is never an excuse for abandoning an animal in this way and I would urge anyone with information about this animal to contact the RSPCA so we can ensure there are no other animals in the home which are not being properly cared for."