Winchester 'free drinks' robber detained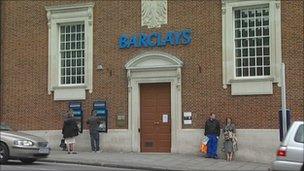 A bank robber who went into a pub, threw the stolen cash in the air and said, "the drinks are on me," has been detained under the Mental Health Act.
Christopher Allnut, 42, entered Barclays Bank, Winchester, in August, and told staff: "Good morning, I'm here to rob you today."
He left with £1,600, dropping £350 in the street, and walked into the nearby Wetherspoon's pub, Old Gaol House.
Allnut, of Southampton, pleaded guilty to robbery at Winchester Crown Court.
Officers later made a public plea for anyone who had found the cash to hand it in, but only about £600 was recovered.
The court heard Allnut walked into the bank and threatened female staff to hand over £5,000, or he would shoot.
Once inside the pub he threw the money in the air and said: "I have just robbed a bank and the drinks are on me."
Winchester Crown Court heard he probably dropped about £350 on the pavement, which was later recovered by bank staff.
He told police he went to pub because poor people often drank there.
Allnut, who has mental health problems, told police he had a drink before he left and lay in the road where he was arrested.
The court heard he had been drinking at the time and had previously twice gone to a police station to try and get himself arrested but was told to go away, even though he admitted he had stolen a bottle of whisky.
Allnut immediately told police he was sorry for scaring the women and that he did not have a gun, the court was told.
At the time, Hampshire police urged people to hand in banknotes found in the street.
Imposing an indefinite hospital order, Judge Keith Cutler said: "The robbery you committed must have been a frightening and distressing act for those ladies."
He added that the cash had gone into "the grateful arms of those sitting in Wetherspoon's".
Related Internet Links
The BBC is not responsible for the content of external sites.