HMS Manchester returns to Portsmouth from Caribbean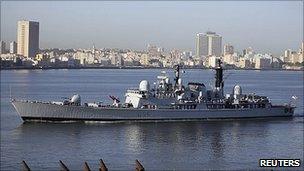 HMS Manchester has returned to Portsmouth for the final time, following a seven-month deployment in the Caribbean.
The 5,200-tonne naval destroyer has been involved in hurricane relief and counter-drug smuggling patrols.
After 30 years' service, it will be decommissioned and replaced by the new Type 45 destroyer, HMS Dragon.
Commander Rex Cox said: "We're very fond of the old girl - it'll be sad to say goodbye to her."
During the deployment, during which the ship covered 43,000 miles, the crew stopped more than £168m of cocaine and marijuana entering the US and UK markets.
In November HMS Manchester helped in the relief effort island on St Lucia following Hurricane Tomas.
It also became the first Royal Navy warship to visit Cuba since the Communist revolution in 1959.
Commander Cox said: "The ship's company have performed magnificently and risen to every challenge in the finest traditions of the 'Mighty Manch' and the Royal Navy - I am immensely proud of them."
Related Internet Links
The BBC is not responsible for the content of external sites.