Wombles composer Mike Batt's silence legal row 'a scam'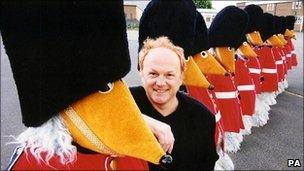 Composer Mike Batt has revealed that a legal battle over a silent song was nothing more than a publicity stunt.
The Wombles song creator reputedly paid a six-figure sum to American composer John Cage after including a section of his silent track, 4'33", on an album.
He was interviewed at the High Court in 2002 with Cage's representatives apparently after agreeing a settlement.
Earlier the Southampton-born composer admitted on Twitter that the whole thing had been a "great scam".
The issue hit the headlines when the Southampton-born composer included a blank track - titled A One Minute Silence - on an album he made with The Planets.
After the album had topped the classical charts, John Cage's publishers lodged a claim for royalties.
Mr Batt, who also penned the hit Bright Eyes, said they had no real claim but he and the publisher decided to use opportunity to publicise the issue of copyright.
Mr Batt wrote on Twitter: "I agreed to pay a donation to the John Cage trust, so long as they accepted it on the steps of the High Court to give the impression that it was a settlement out of court in front of the press.
"Everyone from Reuters to The Times and BBC TV turned up. It was a great scam.
"The guy from the other side rather naughtily told Reuters it was a six-figure sum, under pressure of interrogation, and so they all printed it cost me £100k. In fact it was £1,000 - a donation.
"There was no court case, no serious litigation, just a lot of fun between us, and lots of press coverage."