Southampton to have new cruise ship terminal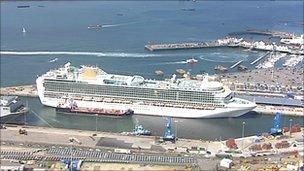 Plans have been announced for a fifth cruise ship terminal to be built in Southampton.
The £30m development will be built at the city's Western Docks and is expected to be completed by 2014.
The 100,000 sq ft terminal will be designed to accommodate vessels with a 4,000-plus passenger capacity.
In October the Queen visited Southampton to name the £400m Cunard liner Queen Elizabeth, at the dock's Ocean Terminal.
The plans come barely two years since Associated British Ports (ABP) opened its fourth terminal in the city.
The new terminal is set to handle at least 4,000 passengers at a time.
Doug Morrison, port director of ABP Southampton, said: "We have had a very good year, we have seen a substantial increases in the container business in the far-east.
"We have seen dramatic improvement in the car business and the cruise business has gone from strength to strength."
But the city's success has drawn criticism from some parts.
North West MEP Brian Simpson is campaigning for Liverpool docks to be given a licence to run cruises starting and ending in the city.
But he has accused Southampton of trying to "maintain its near-monopolistic position in the cruise sector" by opposing plans to upgrade its terminal using government and European Union funding.
Mr Morrison responded: "We have a substantial share of the market but that is because we have invested £41m in recent years and are about to invest a further £30m.
"My challenge to Liverpool and everyone else is you invest your money and you might take some of our market share away.
"But what they mustn't do is look to state aid to achieve that goal."
Related Internet Links
The BBC is not responsible for the content of external sites.