Southampton revellers' medical bus 'valuable'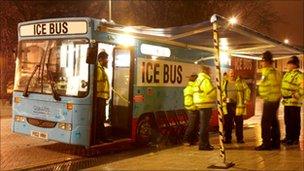 A mobile medical centre that assists revellers on nights out in Southampton has made a "valuable contribution" to city centre safety, police have said.
The ICE - In Case of Emergency - bus is operated by the city council and South Central Ambulance Service.
The bus provides medical help for people with often drink-related injuries and issues on Saturday nights.
Since it was introduced last year, 406 people have used the bus, avoiding 152 visits to hospital casualty units.
Ambulance staff in the bus provide basic medical care and a team of welfare workers offer advice and help people to get home.
Insp Phil Bates, of Hampshire Constabulary, said: "The ICE bus adds a really valuable contribution to making people feel safe in the city at night."
The ICE bus is operating on additional dates though the festive period including New Year's Eve and will be parked on Above Bar Street between 2200 and 0400 GMT.
Related Internet Links
The BBC is not responsible for the content of external sites.