Hampshire residents with diabetes give festive advice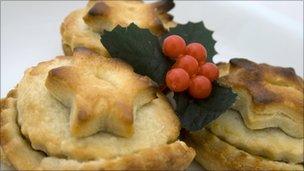 People with diabetes in Hampshire have stressed that moderation is key when it comes to eating during the Christmas holidays.
Chris Parker, 70, from Winchester, was diagnosed with type two diabetes 12 years ago.
"A good tip at Christmas time is to be aware of portion control," he said. "You can eat a little of many things if they are in the right portion size."
According to Diabetes UK over 50,000 people with diabetes live in Hampshire.
Mr Parker added: "Beware of too much refined carbohydrates such as sugars, flour, bread, cakes, biscuits, processed 'fast foods' and sugary drinks.
"I also try to do as much exercise as I can over the Christmas period and beyond - but you can't live like a monk so enjoy yourself as well."
Hampshire resident Jean Barritt, 79, was diagnosed with type two four years ago.
"I try to eat responsibly as much as possible, even at Christmas," she said.
"If I want to eat a slice of Christmas cake, I'll eat less potatoes. It's all about balance."
Diabetes UK has warned that festive food is higher in fat and calories.
The charity estimates mince pies are approximately 200 calories each, Christmas cake 250 calories per slice and mulled wine 250 calories per glass.
A sudden change in the diet of people with diabetes could make it more difficult when it comes to managing blood glucose levels.
Libby Dowling, Diabetes UK clinical adviser, said: "Food choices and eating habits are important to help manage diabetes but it is possible for people to continue enjoying a wide variety of foods as part of a healthy, balanced diet.
"Christmas is certainly the time for relaxing the rules a little with friends and family but it's important we all compensate for this overindulgence.
"Remember it's still OK to have a slice of Christmas pudding or mince pies, but keep it in moderation and make sure you take plenty of physical exercise to help you manage your diabetes and long-term health."
Related Internet Links
The BBC is not responsible for the content of external sites.