Hart Wildlife Rescue's plea for help with hedgehogs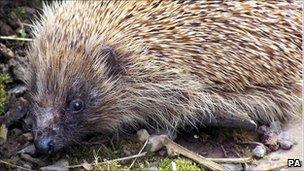 A Hampshire wildlife charity is appealing for volunteers to look after baby hedgehogs caught out by the early onset of winter.
Hart Wildlife Rescue in Medstead near Alton has seen a big increase in hoglets handed in after being found out in the open struggling to find food.
Hedgehogs should be in hibernation by now but many late born hoglets have struggled to stock up for the winter.
More than 80 hedgehogs are being looked after and the number is growing.
Manager Charmian Greenland-Jones said the wildlife hospital only opened in June but may have to close to new admissions unless more volunteers come forward.
She said: "Over the past couple of months the situation has become critical for some of our patients.
"They have been found out in the open desperately searching for food to stock up for the winter and their time has run out.
"If they cannot put on enough weight to enable them to hibernate successfully they will certainly die.
"Those which have been found and brought here are the lucky ones but we are stunned by the numbers we have admitted.
"We are struggling to keep up with all their needs for cleaning and feeding.
"A few more volunteers to come and lend a hand would be very welcome and we are hoping that people who love wildlife will answer our plea for help and enable us to stay open to new admissions over the Christmas and New Year period.
"We also need some more fosterers to take care of the less poorly hedgehogs for us at home over the winter and release them next spring.
"The fact that we should be having to consider closing to new admissions during our first winter is unthinkable and a clear indication of the need for these scarce facilities."
Related Internet Links
The BBC is not responsible for the content of external sites.