Campaign to wave at International Space Station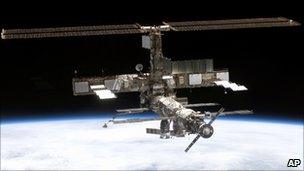 An Isle of Wight astronomer has organised an international campaign to wave at the International Space Station (ISS) over Christmas.
Dr Lucy Rogers has teamed up with UK and US astronomers to "show solidarity with our fellow humans in space".
Some 600 participants have followed the team on Twitter to co-ordinate waving between Christmas and New Year.
The ISS will be passing 240 miles (390km) above the earth at 17,500mph (28,000kmph).
Dr Rogers said the idea came about after regular ISS-watching.
She said: "I'd always wave up at the ISS if I saw it pass overhead. Someone laughed and said the astronauts wouldn't see me.
"So I asked on Twitter if anyone else waved - a lot of people did - and the communal ISS waving began."
Dr Rogers is hoping the astronauts and cosmonauts on board may wave back.
She said two had sent emails and tweets of support for the idea.
Participants can share their waves by tweeting their post code and the hashtag "#ISSwave" along with photos and videos of their waves, and festive messages for the crew.
Their waves will be registered in real time on the ISS Wave website.
The ISS can be seen clearly in the sky as sunlight reflects off its solar panels.
During the week of 24 to 31 December, most places on earth should be able to see it at some point.
Related Internet Links
The BBC is not responsible for the content of external sites.