Honours for Hampshire professor and island actress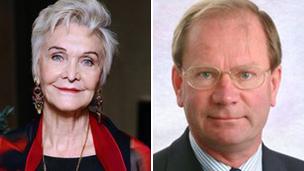 A Hampshire professor known for his research into treatments for allergies and asthma has been recognised in the Queen's New Year Honours list.
Stephen Holgate, professor of immunopharmacology based at the University of Southampton, becomes a CBE for services to clinical science.
Actress Sheila Hancock, who was born on the Isle of Wight, is also made a CBE.
Gillian Habbin, who has spent 25 years running a community club in Ringwood, is appointed MBE.
Mrs Habbin said: "I'm very humbled because I've just done my bit.
"I've had a lifetime of volunteering and I've only been too happy to help in the community.
"I wouldn't want to sit back and just take things, just be a member and not contribute anything towards the actual organisation."
Mrs Habbin, who has lived in the town since she was nine years old, helped to start the Ringwood and District Community Association, known as Greyfriars, in 1959 when she was in her early-20s.
She later managed it for 25 years and is still the secretary. The group organises clubs and classes for all residents, from toddlers to the elderly.
Prof Holgate, whose research is leading to the developmentment of new treatments, said he was "delighted" and wanted to pay tribute to his colleagues.
"Although the award is in my name, in reality it recognises the dedication of so many colleagues both from this country and overseas who have contributed so much to our research effort."
Other Hampshire and Isle of Wight people honoured in the Queen's New Year Honours list include Sir John Roundell, the Earl of Selborne, who becomes a Knight Grand Cross for services to science.
He has been chancellor of the University of Southampton since 1996 and is also chair of the council of the Foundation for Science and Technology.
Diane Roberts, who is principal of Brockenhurst College in the New Forest and lives in Cowes on the Isle of Wight, is appointed CBE for services to further education.
In other honours, Gerald Balding, of Andover, becomes an OBE for services to horse racing, while Mohammed Mossadaq, equality adviser at Hampshire County Council, is also made an OBE for services to local government.
Violinist Pearl Mace, from Southampton, is being made an MBE for services to music, as is Alison Thompson, for her work to help homeless people in Winchester.
Related Internet Links
The BBC is not responsible for the content of external sites.