Dying man's son appeals for stolen camcorder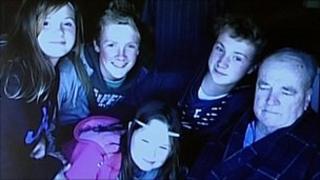 The family of a dying man have made an emotional appeal for a camcorder containing "irreplaceable footage" of him to be returned after it was stolen.
The JVC Everio camcorder was taken from Stratton Road, Winchester, on Thursday.
It carries footage of children who went to visit their grandfather in Australia who has terminal bone cancer.
The children's father, John Harrison, urged people to come forward as his father may only have months to live and the device held priceless memories.
'Lost memories'
Mr Harrison and his children travelled to Australia in December.
"I wanted them to get to know him and to have some great memories of him as he may only have months to live," he said.
"When we got home I didn't have time to transfer the footage from the camera to my computer before it was stolen.
"The camera probably isn't worth very much but the footage of us all together is priceless and I just want it back."
The camera is a black JVC Everio camcorder, serial number MG364BEK.
Pc Annelisa Cass, from Hampshire Police, said: "To be burgled at any time of year is distressing, but to be burgled at Christmas and to have something taken that is of such great sentimental value is terrible.
"These children may never see their grandfather again and the family is now unable to look back at this footage and the memories of their time there together.
Witnesses are being urged to come forward.