Appeal to save Southampton steamship SS Shieldhall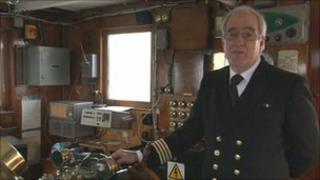 One of the largest working steamships in Europe is under threat of being scrapped because there is not enough money to keep it running.
The 55-year-old SS Shieldhall, based in Southampton, needs to raise £80,000 in four months to help pay for its next biennial dry dock inspection.
The ship, which offers cruises on the Solent, is already struggling with fuel costs and falling passenger numbers.
It owner, The Solent Steam Packet, has started an appeal for donations.
The charity has already raised £9,000 for the inspection, which is due in May, otherwise it will not be allowed to sail and is at risk of being scrapped.
The dry dock fees are expected to be in the region of £80,000 to £100,000.
Captain Peter Roberts said: "We seem to have been hit by double or triple whammies with the rising cost of fuel which has just sky-rocketed and the huge cost of dry docking the ship. The two things combined make it very, very difficult for us.
Chief engineer Graham Mackenzie said: "It really needs to be preserved so that future generations can see what steam power did, not only for the nation but for the world's trading."
The charity said the vessel, based at the Port of Southampton, was the largest remaining sea-going steamship in the UK and the last fully operational coastal passenger and cargo steamer in Europe.