Isle of Wight student ferry fare rises delayed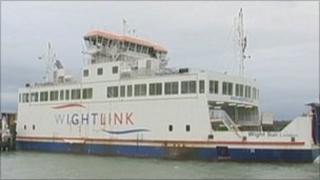 A ferry company has delayed changes to its ticketing scheme which would have meant rises for students travelling from the Isle of Wight to the mainland.
Wightlink said it was stopping a deal where Brockenhurst College students paid children's rates.
The rises would have seen a season ticket go up by about £600 and a seven-day ticket increase by £24.90.
But the ferry firm has postponed the changes after criticism from parents, the college and the island's MP.
About 50 students travel to Brockenhurst College using the Yarmouth to Lymington crossing and were allowed to use the special concessionary rate.
But Wightlink said it was changing the system from the start of the year.
Student Emily Forrest said: "In effect I am not going to be able to afford to go to Brockenhurst anymore.
"Ultimately I am going to have to apply for another college next [academic] year, which will set me back a year.
"[Travelling to the mainland] broadens your horizon, it's given me the insight of what university might be like if I wanted to go."
Her mother Sharon Forrest added: "Because we are on lower income, it is not possible for me to get her double the amount so I am not sure what we are going to do."
Wightlink said it was trying to simplify a wide variety of different type of tickets and the logical time to do it was at the beginning of the calendar year.
But the firm said following "feedback" it has decided to postpone the fare rises until September, although parents have vowed to fight any changes.