Portsmouth City Council set to cut 400 jobs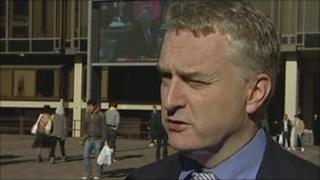 Portsmouth City Council has announced plans to axe about 400 jobs, blaming cuts in government funding.
Staff were sent an e-mail outlining the plans which also included possible pay reductions, charging for car parking and cutting sick pay.
The message was sent by council leader Gerald Vernon-Jackson and chief executive David Williams.
They said talks will take place with unions. Unison said the cuts would be "huge and devastating".
The union had previously warned 400 city council jobs would go, although Mr Vernon-Jackson said the figure was more likely to be 200.
The city council said the cuts were needed after its funding settlement from government was cut.
In a statement, chief executive Mr Williams said: "Councils across the country are facing significant budget cuts and Portsmouth City Council is no exception.
"These cuts will unfortunately force us to lose posts this year.
"At the moment we're estimating something in the region of 400 posts may have to be lost.
"It will be for councillors to decide in February's budget meeting where those job losses will occur."
He said the council was "working hard" to find ways to make cuts without impacting on residents.