New cars damaged in transporter fire on M3 in Hampshire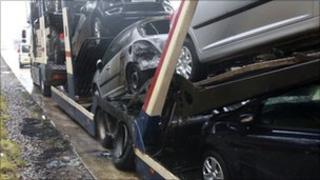 A car transporter carrying eight new vehicles caught fire on the M3 motorway in Hampshire earlier.
Firefighters were called to the lorry, which was between junctions eight and nine of the southbound carriageway, shortly after 1000 GMT.
The transporter was carrying eight cars, including Fords, Peugeots and Citroens, four of which were damaged by the flames.
It is believed the fire started in the bearings of the lorry's rear axle.
Crews said it was extinguished by 1100 GMT.