Hundreds join Royal Mail protest in Cameron's Witney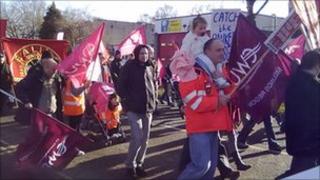 About 400 people have gathered for a protest in David Cameron's Oxfordshire constituency of Witney.
The demonstration, organised by the Communication Workers Union (CWU) Eastern Region, is over plans to privatise Royal Mail.
Protesters gathered at Church Green at 1130 GMT for a march, which was followed by a rally.
Last year the government unveiled the Postal Services Bill which includes proposals to sell off the postal group.
The Bill is due for its third reading in Parliament on Wednesday.
The march, which was supported by several trade unions, took protesters through the town's High Street before the rally on Church Green.
Protesters waved dark red CWU flags. A coffin bearing the slogan "here lies the remains of Royal Mail" was also carried through the town.