Thatched house in Hampshire wrecked by fire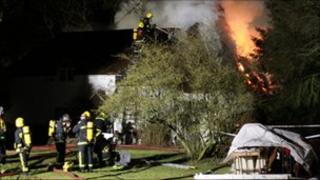 A thatched house in Hampshire has been severely damaged by a large fire which spread to an adjoining house.
About 90 firefighters were called to the two-storey property in Popham at 0011 GMT where the thatch roof was well alight.
The A33 was temporarily closed in both directions near the A30 junction.
Both floors and the roof of the house have been severely damaged along with the ground and first floors of the neighbouring property.
Crews made a break in the roof to stop the flames spreading next door and the fire was extinguished by 0930 GMT.
Hampshire Fire and Rescue area manager Mark Rayner said: "This type of incident is always very difficult to deal with due to the make-up of the thatch roof.
"The crews did a fantastic job to ensure that close by properties were protected from the incident.
"Had it not been for their swift actions and hard work in arduous conditions there is no doubt that the damage would have been much more significant".