Portsmouth Blitz memorial plaque to be unveiled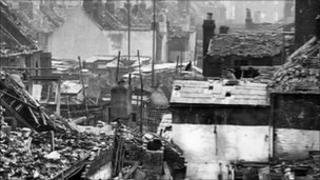 A memorial service honouring more than 1,000 people killed in Portsmouth during the Blitz has been held on the 70th anniversary of the attacks.
Records show 1,013 people died during the World War II German raids which destroyed large sections of the naval city, including the Guildhall.
The names of those who were killed were read out during the service in the rebuilt Guildhall Square.
A plaque was also unveiled as part of the service.
'Heroic efforts'
The names of those who lost their lives during the bombings in 1941 were read out by survivors, relatives and residents.
Roger Halson, who lost four relatives in the bombings, said: "All those in the basement were killed.
"My granddad was killed but my mum was blown clear, badly injured and buried but survived thanks the heroic efforts of the rescue workers.
"But in that instance she lost her parents, her sister and 11-month-old baby, her first child."
The Guildhall's chimes were also silenced during the event, and the flags outside the Civic Offices flown at half-mast.
Prayers were also said at Portsmouth Cathedral.
Officials have compiled the list of those who lost their lives using data from the Commonwealth War Graves Commission, Portsmouth Dockyard, and the City Museum and Records Office, with reference to the book Portsmouth - City of Gallant Hearts by Robert W Hind.