Arson probe launched after Southampton pub fire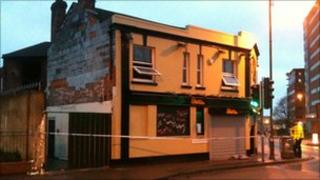 A fire at a Hampshire pub which broke out overnight is being treated as arson.
More than 40 firefighters tackled the blaze at Shotz in Onslow Road, Southampton, which started in an upstairs flat shortly before 0300 GMT.
Police have launched an investigation following the fire at the pub, which has been empty since January.
The fire, which badly damaged the roof, was brought under control by crews by 0540 GMT.
There had been plans to turn the pub into a shop.
Flats close to the fire were evacuated.
Det Con Stephen Thomas, of Hampshire Police, said: "It looks like the fire began in two places within the flat above the building and we are certain it was started deliberately by someone.
"Luckily no one was in the flat at the time as the tenant was out however whoever did this endangered the lives of all the other people living in the terrace and if it wasn't for the good work of the fire service we could have been looking at something much worse."
Police are appealing for witnesses.