Marilyn Monroe's dress on display at Portsmouth museum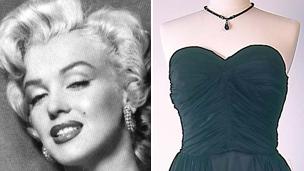 A dress worn by Hollywood icon Marilyn Monroe is set to be the star attraction at a new exhibition.
The black silk strapless classic is part of a collection to be displayed in Portsmouth from Saturday.
Little Black Dress also features designer offerings from Chanel, Balenciaga and Dior as part of a 50-strong exhibition at the City Museum.
Featuring items from pop culture and film from 1910 to the present day, the collection will be on show until June.
Councillor Lee Hunt, who oversees culture, leisure and sport at the council, said he hoped the blonde bombshell's dress would help to boost tourist numbers.
"I am sure that Little Black Dress will be just as popular since it represents a revolution in design by 1920's fashion designer Coco Chanel when women were breaking free from the tight-laced Victorian and Edwardian eras."
Related Internet Links
The BBC is not responsible for the content of external sites.