Havant woman given first totally implanted hearing aid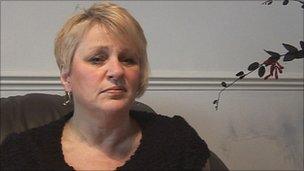 A Hampshire woman has received the UK's first totally implanted hearing aid.
The Otologics Carina middle ear implant device consists of a rechargeable battery, a signal processor and a microphone implanted under the skin.
These are connected to an electromagnetic vibrator inside the mastoid bone behind the ear which attaches to the hearing bones.
Denise Westgate, 49, from Havant, had the operation at Queen Alexandra Hospital in Portsmouth.
She received the hearing aid thanks to work from the South of England Cochlear Implant Centre (SOECIC), based at the University of Southampton, which said it was the first time "a totally implantable device with no external components" had been fitted in a patient in the UK.
The fitting was carried out by consultant otolaryngologist Mike Pringle, who conducted the UK's first operation last year to fit a single cochlear implant capable of giving sound in both ears.
Ms Westgate's device is completely invisible from the outside.
In older hearing aids the microphone and battery are on the outside of the patient, held in place over the implanted part of the device by a magnet.
These devices are prone to being knocked off, damaged or getting wet. And when the external part is removed at night or in the shower, the patient can no longer hear.
The new implant is suitable for people with moderate to severe hearing loss who are unable to use conventional hearing aids because of ear canal infections, allergies to ear moulds or a closed ear canal.
Mrs Westgate lost her hearing when she was six and she cannot wear a conventional hearing aid because of a closed right ear canal.
She said: "I was nervous being the first person to undergo this operation but the difference it has made to my life is enormous.
"Suddenly there is all this sound that hasn't been there before, something as simple as the sound of water when I am washing my hair or the sound of my husband's lighter.
"I have to use a charger to charge the internal battery for about 45 minutes every day but otherwise there is no external equipment to wear.
"I can leave it on overnight and can swim and shower with it in place."
Related Internet Links
The BBC is not responsible for the content of external sites.