Biomass power station plan for Southampton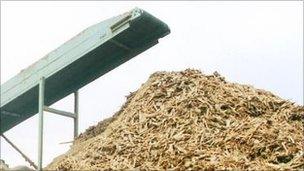 Plans for a giant wood-fired power station in Southampton are going on display at exhibitions in the city.
The £300m biomass burner would have a 100m (330ft) chimney and would generate enough energy to supply 200,000 homes - twice the size of the city.
If the plans are approved, it will be built at Western Docks near the Millbrook railway station.
Most of the wood would be imported by ship from sustainable plantations but some would come by road.
Developer Helius Energy is holding exhibitions at Marchwood Village Centre on Wednesday afternoon and at the Poveys Centre in Shirley on Thursday afternoon.
The plant would run on 800,000 tons of biomass per year, of which a majority would be wood but residues from cereals and oilseeds may also be used.
The firm said up to 250 full-time jobs would be created during the 36-month long construction phase and there would be another 40 jobs when the plant was operational in 2015.
A public consultation on the plans began on Monday and people have until 18 March to respond.
Related Internet Links
The BBC is not responsible for the content of external sites.