At risk libraries in the Isle of Wight thrown lifeline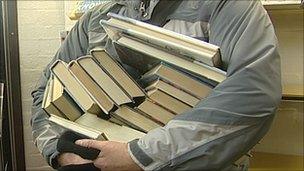 Libraries facing closure on the Isle of Wight have been thrown a possible lifeline following a consultation.
Civic chiefs had proposed nine out of 11 libraries would close as the council attempts to save £32m over four years, except those in Newport and Ryde.
Those under threat would instead be run by volunteers, but under proposals four at risk of closure could still be run by the council for three days a week.
The plans will be discussed by the council on 1 March.
Libraries in Sandown, Ventnor, Freshwater and Cowes were to have their opening hours cut down to one day a week and closed after a year.
If proposals are agreed, they will continue to be managed by the council for three days a week, with the intention of volunteers being drafted in to extend opening times.
Those in East Cowes, Bembridge, Shanklin, Niton and Brighstone will have their closure deadline extended from April until the end of June so groups have more time to develop proposals to take them on.
Councillor George Brown, who oversees libraries on the island, said: "The aim is to give local communities more time in which they can increase their roles in supporting libraries.
"While we do have to reduce expenditure on our library service as part of the overall need to save £25m in the coming two years, we intend to do all we reasonably can to protect libraries in all areas currently served and furthermore to help establish new provision in areas where there currently is none."
In January, library members took out hundreds of books from Newport as part of a mass borrow in protest at the proposed cuts.
The Conservative-run council said plans would have saved £633,000 by April 2012.
Related Internet Links
The BBC is not responsible for the content of external sites.