Cat shot four times in the head in Southampton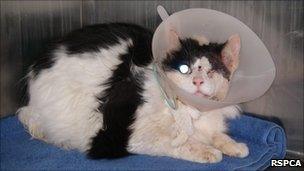 A cat had to have its eye removed after being shot in the head four times.
The black and white long-haired tom cat was picked up by an RSPCA officer in Newton Road in Newton, Hampshire, on 8 January.
He was taken to a rescue centre where an examination showed he had four airgun pellets embedded in his head, one of which was in his left eye.
The RSPCA is trying to find his owners and has appealed for anyone who knows what happened to him to contact them.
All air pellets have been removed from him, but vets could not save his eye.
He is recovering at the RSPCA Stubbington Ark veterinary clinic in Southampton.
Charlie Eyden, RSPCA inspector, said: "The cat was lucky to survive and this attack is distressing for everyone involved.
"I can't comprehend why anyone would want to cause harm to an animal in this way.
"The cat was found in a terrible state and now has to live with only one eye and lasting injuries because of this cruel attack."
Vanessa Eden, deputy manager at Stubbington Ark, said it was a "very friendly and a nice little cat."
Anyone found guilty of causing suffering to an animal could face a fine of up to £20,000 or up to six months in jail.
Related Internet Links
The BBC is not responsible for the content of external sites.