Portsmouth plans Dickens statue, despite will request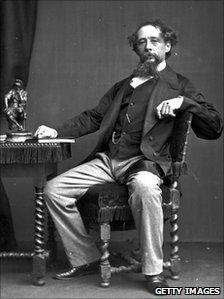 A memorial statue of Charles Dickens could be erected in Portsmouth despite the Victorian author requesting that none should be built.
Plans are in place as part of the bicentenary of the Oliver Twist creator's birth in April 2012.
However in his will he wrote: "I conjure to my friends on no account to make me the subject of any monument, memorial or testimonial whatsoever."
His great-great grandson Gerald said the Dickens' family backed the plans.
The author was born in Portsmouth on 7 February 1812 where he spent the first three years of his life.
His birthplace has been turned into a museum.
The statue will be unveiled on the 200th anniversary of his birth, although a location has not yet been confirmed.
It will be funded by American fans with some contribution from Portsmouth council.
Council leader Gerald Vernon-Jackson said any plans needed to have been approved by his descendants.
"He's probably the greatest of all British novelists and we should celebrate - not only that he is great at literature but that he was born and christened in Portsmouth.
"We have talked to his family, they said that it's now the right time and the appropriate time to do this.
The author has two statues in his honour, in Philadelphia in the US and Sydney, Australia.
His great-great grandson, Gerald Dickens, said it was the "perfect time" to remember him, despite the wording of Dickens' will.
"We are of the opinion that in that particular part of the will he was very much talking about the immediate aftermath of his death and the arrangements for his funeral, which he didn't want to be ostentatious in any way.
"In Victorian England the the type of statues and monuments erected were massive, huge, unbelievable garish monstrosities.
"I can't believe that he as a person wouldn't want people to be able to celebrate and remember his life and much more importantly his works and the work he did from those novels."
Mr Dickens said he hoped the statue will be displayed in a public place.
"Dickens was a man of the people and that's where it should be," he added.
Related Internet Links
The BBC is not responsible for the content of external sites.