New Forest 'cannot be run by charity', says RSPB chief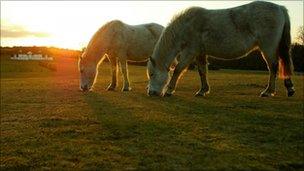 The running of the New Forest cannot be done by charities the RSPB has said, as proposals are made to sell-off the public forest estate.
Ministers want to transfer power of England's 258,000-hectare public forests from the Forestry Commission over the next 10 years.
Dr Mark Avery, of the RSPB, which is in line to take them on, said the New Forest was a "very complicated place".
A government consultation has been launched over the plans.
Proposals include inviting charities to take on the ownership of "heritage forests", helping community groups buy or lease them and a £250m sale of leaseholds for commercially valuable forests to timber companies.
The idea has sparked anger among protest groups and divided the New Forest's two Conservative MPs Dr Julian Lewis and Desmond Swayne.
'Environmental vandalism'
In his blog on the wildlife charity's website, Dr Avery said although the charity had expertise in protecting landscapes, the forest had complex administration and protection.
"But let's be clear, we don't think running the New Forest can be done by charities. And we don't think it's desirable," he said.
Dr Avery added the forest had a series of designations including National Park status and being a site of special scientific interest, a special area of conservation and a special protection area for birds.
It also has complex administration, with an ancient Verderers' Court - which oversees the interests of forest land owners - and a modern National Park authority.
Under the rules governing protections such as the special areas of conservation, the government is responsible for making sure it is looked after, whoever owns it, he said.
"If the RSPB thought that we could step in and make the New Forest a better place for wildlife and people then we'd say so - but we don't, and have no intention of pushing ourselves forward in that way.
"We might do more in the future, but we aren't daft - we know when something is too big to swallow."
But he suggested a Forest and Wildlife Service could manage heritage aspects of major forests in a more effective way than the current set-up, and said the idea of a merger between a heritage Forestry Commission and Government conservation agency Natural England "keeps popping back into my head".
Officials at the Department for the Environment, Food and Rural Affairs have stressed that no commission-owned land will be sold off if appropriate guarantees over public access cannot be reached.
Labour has described the plans as "environmental vandalism".
Related Internet Links
The BBC is not responsible for the content of external sites.