Isle of Wight steam railway wins development grant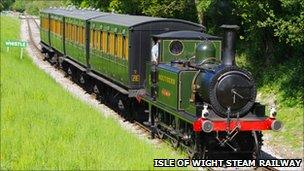 A project to preserve and display a historical collection of railway locomotives and carriages has received a £35,000 development grant.
The Isle of Wight Steam Railway Company has been awarded Heritage Lottery funding for its Changing Trains project.
The £1.1m scheme aims to build a rolling stock storage and display building at Havenstreet.
Chairman Steve Oates said: "This is a tremendous boost to us."
The railway now has two years to submit a more detailed bid for the remainder of the funds needed.
Mr Oates said: "Changing Trains will give visitors the opportunity to view historic railway vehicles at close quarters and discover how they were once so much a part of life on the Island."
Related Internet Links
The BBC is not responsible for the content of external sites.