Harry Potter 'Voldemog' cat struggles to find home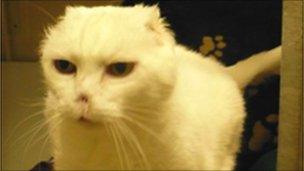 An animal rescue centre in Southampton fear one of its cats may never be rehomed due to its resemblance to Harry Potter villain Lord Voldemort.
Charlie was taken in by a local woman after living as a stray but had to have his ear tips and nose removed after sunburn left him with skin cancer.
But after the operation he failed to get on with the woman's other pets.
The Blue Cross Centre is hoping someone will rehome Charlie, dubbed "Voldermog" by staff, despite his appearance.
Animal welfare assistant Marie Loveridge said: "Charlie is an adorable gentle big chunky chap, who loves fuss, lots of tickles and cuddles.
"He has a dear little voice and likes to squeakily meow at you to get your attention.
"He has no problems with not having ears or a complete nose, he hears you and smells things as normal.
"Charlie just loves human company and would happily be around you all day."
White and light-coloured cats can be prone to suffering from skin cancer and the centre recommends owners take steps to protect their pets from the sun.
Lord Voldemort is played by Ralph Fiennes in the Harry Potter films.
Related Internet Links
The BBC is not responsible for the content of external sites.