Portsmouth kidney donor awarded £6.7m after transplant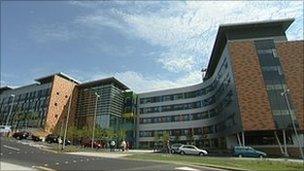 A man who nearly died during an operation to donate a kidney to his father has been awarded £6.7m damages.
The High Court in London was told the 39-year-old patient had paid "a very great price" for his generous act.
He needed a transplant from his sister after suffering left kidney failure while donating his right kidney.
Portsmouth hospitals trust said it had investigated the 2008 operation. It said there was a unique set of "unfortunate circumstances".
Health chiefs disputed the "potentially enormous" compensation involved, after the patient, who cannot be named for legal reasons, claimed £14m.
The surgeon, Kamal Abusin, no longer works at the hospital and faces proceedings before the General Medical Council.
Judge Mr Justice Spencer said the consequences for the patient, described as a dynamic and hard-working professional, had been catastrophic.
The court heard the father of two's life had been shortened by about 10 years and he had to suffer the trauma of dialysis, considerable health problems and the prospect of future deterioration with the inevitability of another transplant.
He was in his mid-30s at the time of the operation at the Queen Alexandra hospital in Portsmouth.
Representing the family, Elizabeth-Anne Gumbel QC said the patient had wanted to give his father a better quality of life in retirement.
"The donation of the kidney was successfully achieved but at a great cost to the claimant who, during the course of the operation, suffered torrential, life-threatening haemorrhaging," she said.
Ruling that the patient's identity should not be disclosed, the judge said the circumstances were so exceptional that his naming would be likely to have a devastating effect on the family.
In his ruling, the judge said the patient should never have been advised to undergo the operation.
He received more than 100 units of blood and fluid transfusions and he was in hospital for two months.
A Portsmouth Hospitals NHS Trust spokesman said: "The trust would like to provide reassurance that this incident was a unique set of unfortunate circumstances.
"Following a full investigation, every possible action has been taken to further improve the trust's renal transplant services with the aim of preventing a similar incident of this kind."
Related Internet Links
The BBC is not responsible for the content of external sites.