Isle of Wight in line for two MPs in boundary changes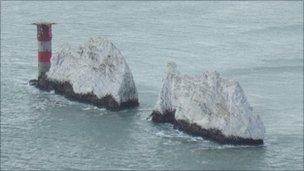 The Isle of Wight is in line to have two of its own MPs after the government made concessions in its plan to change parliamentary boundaries.
Ministers had proposed uniting areas of the island with Hampshire as part of plans to equalise constituency sizes.
The idea sparked protests, with 16,000 islanders signing a petition.
But a government amendment could now see two island MPs after the House of Lords voted to keep the island seat separate.
MPs are expected to vote on the amendment later.
Lords voted to keep the Isle of Wight seat by 196 votes to 122, a majority of 74, meaning the Bill will have to go back to the Commons.
The government wants to see constituencies of 75,000 voters.
The Isle of Wight has a 110,000 electorate, and so it was proposed that part of it could join the mainland.
The government initially said the only areas not affected by the reforms would be Orkney and Shetland and the Western Isles, which were considered "uniquely placed".
But now the Isle of Wight is set to be recognised in this way.
The island's current only MP, Andrew Turner, said: "This is a stunning victory for the island.
"The government has listened to our arguments and now seeing the strength of feeling on this issue both on the island, in the House of Commons and the House of Lords, they have accepted them.
"The government understands that we wish to be separate and even if that meant the island being under-represented it would be preferable to having one-and-a-half MPs.
In the proposals, Deputy Prime Minister Nick Clegg said, if approved, the changes would reduce the number of MPs and save taxpayers up to £12m a year in salaries, pensions and allowances.
Related Internet Links
The BBC is not responsible for the content of external sites.