Rude gesture Southampton speeding motorcyclist fined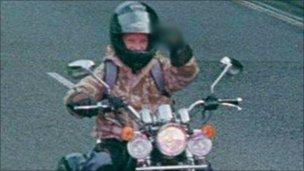 A speeding motorcyclist who made a rude gesture at a speed camera because "his mates told him he would not get caught" has been fined.
Paul Collins was riding his bike at 48mph in a 30mph zone along Maybray King Way in Southampton last October.
The registration plate was not visible in the image but police traced Collins through his distinctive bike, which they later spotted on the same road.
Collins, 26, of Hillson Drive, Fareham, admitted speeding and was fined £117.
He was also given five points on his licence at Southampton Magistrates' Court and fined a further £60 for driving otherwise in accordance to his licence.
Pc Mick Gear, from Hampshire Police, said: "When we visited him at home, the rider admitted the offence, telling us his mates told him he wouldn't get caught.
"I think this is a lesson to all irresponsible motorcyclists that we will seek to prosecute anyone caught speeding through these areas.
"Collins did so knowingly and his arrogance was plain to see from the enforcement image.
"I hope the sentence will encourage other riders to be more responsible."
Police had not been able to trace Collins through his registration details, as the fact motorcyclists do not by law have to display a front number plate meant the only registration plate - on the rear of the bike - was not visible in the image.