UK tourist missing in New Zealand found by search team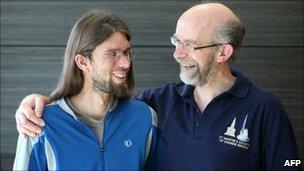 A British tourist who survived five days in the New Zealand wilderness has been reunited with his family.
James Esbester, 30, from Waterlooville, Hampshire, went missing in the Wangapeka area of Kahurangi National Park, last Thursday.
He survived without food and made a makeshift "help" sign which was spotted by helicopter crews despatched to search for him.
Mr Esbester was taken to hospital where he was treated for hypothermia.
He became lost after originally going out on a trek intended to last half a day.
But he had not been seen since writing in a log book of his intention to climb Mount Luna.
He was spotted on the Crow Riverbed on Monday about 10km from Mt Luna and well off his intended route.
Search controller Insp Hugh Flower said the helicopter had been sent to check remote huts outside the search area in order to eliminate them from the search when the pilot spotted Mr Esbester waving.
Mr Esbester said: "Because I had taken half a day's snacks with me all of them had mostly gone by the time I was trekking down the mountain, but I was following a river so I had plenty of water at least.
"I had gone up the mountain wearing contact lenses and after a couple of day's I really had to get rid of them so essentially after that I couldn't see very well either."
Related Internet Links
The BBC is not responsible for the content of external sites.