Southampton passion play brings Easter story to life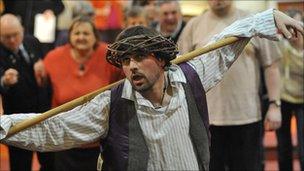 A passion play organiser is hoping a re-enactment of the crucifixion in Southampton's Guildhall Square will focus minds on religion.
Neil Maddock said: "The purpose is to put Jesus back at the heart of Easter, there's whole generations growing up who don't know the basic Easter story."
The two-hour musical production features the Last Supper, death and resurrection of Jesus Christ.
More than 70 actors and a 100-strong choir will perform on Good Friday.
As well as organising and writing the play, Neil Maddock has also been cast in the leading role of 33 year-old Jesus.
He said: "It's a huge challenge to portray this man who was divine Son of God and here I am, 'little old me'. I'm hoping to communicate something of who he was and what he did.
"Over Lent, spiritually, I'll be preparing myself for the role, really trying to get inside this man Jesus and try and understand his motivations.
"How he could go through what he went through and trust in God that much that it would actually all work out in the end."
Related Internet Links
The BBC is not responsible for the content of external sites.