Rival 'made paedophile slur against MP Mike Hancock'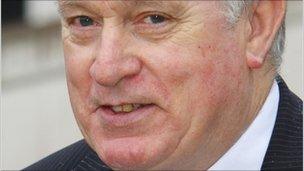 A general election candidate produced a leaflet branding his Liberal Democrat rival a paedophile, a court has heard.
Les Cummings is accused of making a false statement about Mike Hancock with the purpose of affecting the result of the election in Portsmouth South.
Mr Cummings, 66, of Portsmouth, denies the charge.
Southampton magistrates heard he alleged Mr Hancock - who was re-elected as MP for the constituency - had an affair with a 14-year-old girl.
The leaflet, produced last April, wrongly said the girl became pregnant and that Mr Hancock had been seen kissing her in a casino.
It also falsely alleged that Mr Hancock had slept with a girl in Romania during charity work for Mencap in the country, the court was told.
The court heard that Mr Hancock admitted that he had had extra-marital affairs but had never had any sexual involvement with anyone aged under 17 in the UK or abroad.
Mr Cummings stood as an independent candidate for the Justice and Anti-Corruption Party for both the Portsmouth South seat in Parliament and for the Charles Dickens seat on Portsmouth City Council but did not win either position.
Alison Morgan, prosecuting, said there had been "a history of animosity" between the pair.
She said the leaflet also included other allegations accusing Mr Hancock of being "corrupt and a friend of known criminals".
Mr Hancock successfully took out an injunction banning the distribution of the leaflet and Mr Cummings was later arrested, the court heard.
Miss Morgan said Mr Cummings had told police that his source for the allegation about the schoolgirl was a local hairdresser whom he would not name.
The court heard that Mr Cummings was told about the Romanian "rumours" from his electoral agent, Leo Ciccarone.
Giving evidence, Mr Ciccarone said: "Every time we touch that man [Mr Hancock], nothing sticks to it - we call it Teflon, nothing sticks to it."
Related Internet Links
The BBC is not responsible for the content of external sites.