Prince Charles makes Stannah stairlift visit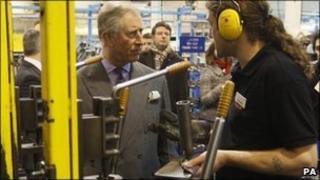 The Prince of Wales pushed the button to start production of the 500,000th stairlift during a visit to the family-run Stannah factory.
Prince Charles spent two hours at the factory in Andover touring the assembly line and meeting several generations of the Stannah family and their workers.
As patron of Abbeyfield and the Almshouse Association, the prince also presented stairlifts to both charities.
He joked that he now knew where to get a complimentary lift in his old age.
The prince said he was "reaching rapidly a state of decrepitude" and might try a stairlift out.
'Celebrate our success'
"It's a great joy to have a brief opportunity to see this splendid company in operation here," the prince added.
"I'm someone who is a great admirer of family companies, particularly hereditary lift makers."
Managing director Jon Stannah said: "It's been an absolute pleasure to show him around our factory and to celebrate our success as a British manufacturer and exporter."
Stannah is a family-owned and run business that was established in 1867 in London and now employs 1,450 people in the UK and 250 abroad.
It started making and selling cranes, lifts and hoists for moving ships' cargo and introduced passenger lifts at around the turn of the 20th Century.
The business moved to Hampshire in 1974 and launched its first stairlift the following year.
The company, which has a £180m turnover, still makes passenger lifts and now includes goods and service lifts, walkways, escalators and platform lifts in its product range.
Almshouses have existed for over 1,000 years, enabling individuals in need to retain their independence and to live in their local community.
Abbeyfield is a not-for-profit organisation dedicated to making the lives of older people easier and more fulfilling.