Southampton NHS trust seeks heart surgery unit support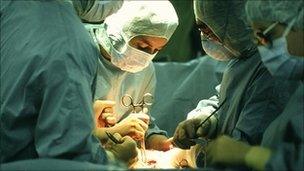 An NHS trust has called on the public to support its bid to save a children's heart surgery unit from closure.
The unit at Southampton General Hospital is part of a national review of paediatric cardiac surgery that recommends fewer, larger centres.
Three of the review's four options involve closing the unit in the city.
Dr Michael Marsh, from Southampton University Hospital Trust, said it was "vital" that supporters submitted their views during a four-month consultation.
He said: "An independent review [The Kennedy Report] has rated Southampton as providing the highest quality of service outside London and we are regularly recognised both nationally and internationally for our surgical outcomes.
"We are all obviously extremely disappointed to have only a one in four chance of retaining this exemplary service for patients from across the UK."
The NHS national review looked at all 11 units in England amid concern expertise was being spread too thinly.
A final decision will be made in the autumn and surgery could stop at the affected units by 2013.
In total, there are 31 child heart surgeons across England. Between them, they carry out 3,600 operations each year on children in England and Wales, born with a range of heart defects.
In 2010, 404 congenital heart surgery procedures were carried out in Southampton.
Professor Roger Boyle, the government's heart and stroke expert, said he had "no doubt" that change was necessary in the provision of patients' heart care.
The review, set up by the National Specialised Commissioning Group, which is in charge of child heart units, recommended a minimum of four surgeons per unit, which means at least four hospitals will stop doing operations.
Newcastle, Liverpool, Leicester, Birmingham, Bristol plus two in London
Newcastle, Liverpool, Birmingham, Bristol, Southampton plus two in London
Newcastle, Liverpool, Birmingham, Bristol plus two in London
Leeds, Liverpool, Bristol, Birmingham plus two in London
Related Internet Links
The BBC is not responsible for the content of external sites.