Camilla Duchess of Cornwall visits naval chaplaincy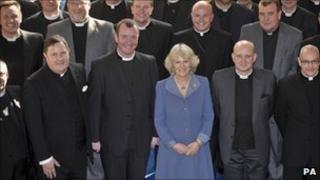 The Duchess of Cornwall met chaplains deploying to Afghanistan during a visit to the Royal Naval Chaplaincy Service annual conference in Hampshire.
The duchess arrived by helicopter at the Armed Forces Chaplaincy Centre, based at Amport House, near Andover.
She spent an hour with the chaplains in her capacity as Commodore-in-Chief of the Royal Naval Chaplaincy Service.
The service gives pastoral care and spiritual and moral leadership to navy personnel and their dependants.
The duchess met all the chaplains attending the conference at a reception, including those due to go to Afghanistan, on Wednesday.
First official visit
Chaplain of the Fleet, the Reverend Scott Brown, said: "It was a pleasure to host Her Royal Highness at Amport House with the opportunity for her to meet a number of naval chaplains and chaplaincy staff.
"The visit gave the duchess an insight into the work undertaken by naval chaplains around the world both at sea and on land operations."
Today, full-time commissioned chaplains are joined by colleagues from the Royal Naval Reserve in looking after personnel at sea and on deployment, as well as lay associates from organisations such as the Royal Sailors' Rests and the Church Army.
The Naval Chaplaincy conference is an annual briefing on naval service directives and policy.
The Duchess of Cornwall has been Commodore-in-Chief since October 2008.
This was her first official visit in the role.