Spitfire flypast for 'world's only' woman pilot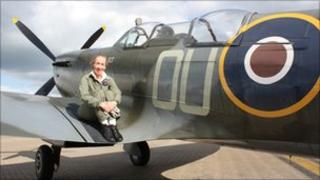 A woman thought to be the world's only qualified female Spitfire pilot is to fly her plane over Southampton on Saturday to mark the 75th anniversary of its first journey.
When Carolyn Grace's husband was killed in a car accident in 1988, aged 52, his treasured fighter plane was left untouched in the hangar.
Engineer and qualified pilot, Nick Grace had recovered the World War II aircraft from a museum in 1979 and painstakingly rebuilt it over five years. He first flew it in 1985.
Following his death, the mother of two, who now lives in Halstead, Essex, decided to cherish her husband's memory through the warplane.
She said: "To keep our Spitfire operational and keep it for the embodiment of my husband I had to learn to fly it. There had to be another Grace in the cockpit.
'Being a bird'
"It was daunting and hugely emotional, he was such an exceptional person. The driving force was to have a future for the children."
Australian-born Mrs Grace who had already learnt to fly a biplane through her husband, took on the challenge of the warplane and made her first solo flight in 1990.
She describes flight in the 425mph 67-year-old fighter, named the Grace Spitfire, as "the nearest thing to being a bird".
Mrs Grace, 58, who flies the historic aircraft at air shows throughout the UK has earned her Display Authorisation and passed her Aerobatic and Formation qualifications.
The plane is also flown by her 27-year-old son, Richard.
She will take part in a flypast in her Spitfire to mark 75 years since RJ Mitchell's Southampton-designed and built plane's first flight from the city, in 1936.
Her plane is thought to be just one of two, two-seater Spitfires that are airworthy in the UK.
There are also only 18 single-seat Spitfires left in the UK, that can be flown, out of more than 22,500 built for the war.
Grace Spitfire flypast map
[712kb]
Mrs Grace said: "I think everyone relates to the Spitfire for what it did, what it represents from the war - but also today it is just representing such a wonderful part in history, of British engineering at its very best."
The plane was built in 1944 as a single-seat fighter. It flew more than 300 combat hours in the front line of battle in World War II.
After the war, the aircraft was saved from scrap in 1950 when it was converted by Supermarine at Southampton to a two-seater and used as an advanced trainer for the Irish Air Corps for 10 years.
The warplane then starred in the classic war film Battle of Britain. It was later sold to a Scottish aircraft museum.
Today the Grace Spitfire is based at Bentwaters in Suffolk and is sponsored by JLT Aerospace.