Unionised Southampton City Council staff reject pay cut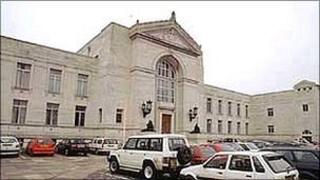 Some Southampton City Council workers have rejected plans for their pay to be cut to save jobs.
Members of the GMB union voted nine-to-one against the planned cuts and may now be balloted on strike action.
GMB official Kevin Brandstatter said staff were being blackmailed into accepting the cuts or seeing "even more" cuts on top of 285 jobs losses.
Leader of the Conservative-run council, Royston Smith, said 77% of all council staff did not vote to reject the plans.
In February, councillors finalised £25m budget cuts and said all workers earning more than £17,500, which is 65% of staff, would have their pay cut.
Staff earning £17,500 to £22,000 will have their pay cut by 2%, those in the £22,000 to £35,000 bracket will have pay cut by 4.5%, salaries of £35,000 to £65,000 will be slashed by 5% and those those earning more than £65,000 face a 5.5% cut.
The council employs about 6,600 staff.
'Disappointed'
Mr Brandstatter said: "GMB members are angry at these proposals. This is quite understandable as inflation is running at 5% and rising, and food and fuel prices are going through the roof.
"Workers are right to ask why skilled school support staff and manual workers should have their pay cut while the bankers who caused this financial crisis in the first place see their pay rise by 20%."
Mr Royston Smith said: "I am very disappointed by the outcome of the union vote. However, it is important to set this in context. 77% of Southampton City Council staff did not vote to reject our proposals.
"I understand that many people are unhappy about the proposals; however, the alternative is to lose another 400 staff and stop providing the services our residents tell us they value."